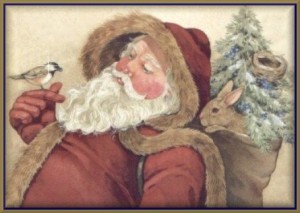 That's right — the jolly old elf himself is making a special visit to our favorite gristmill this holiday season to take pictures with good boys and girls (and their patient parents). Proceeds from the event will benefit Yates Mill Associates' ongoing efforts to keep Yates Mill operating and open to the public.
Come have your picture made inside Yates Mill with our Victorian-style Santa Claus:
Saturday, Dec. 13
10 a.m. to 3 p.m. (with a lunch hour for the elves starting at noon)
Photographs will be taken by the team at Photo Miracles. You'll be able to select and order your pictures almost immediately at the park center.
How does it work?
Drop by the park center at any time between 10 a.m. and 2:45 p.m. on Dec. 13 to sign up with YMA volunteers and purchase your ticket. No appointment is necessary.
For $15, you'll receive one ticket for a family group to pose in the mill with Santa Claus. Cash, check AND CHARGE CARDS will be accepted.
Walk down to the mill, where another volunteer will greet you at the door. When it's your turn, you'll step inside to meet Santa and take several poses.
Next, play "reindeer games" in the mill yard, take a walk in the park or enjoy free refreshments while your photos are uploaded.
Then return to the park center to view your images. You may order as many prints as you like. The $15 ticket you purchased will be credited to your entire order.
Photo prices (one each except where noted):
4×6 for $15
5×7 for $15
4 wallets for $15
8×10 for $22
20×30 for $65
Join us at historic Yates Mill to celebrate the season with Santa Claus!