From the staff of Historic Yates Mill County Park
Change is in the air, from a seasonal perspective but also for the park's staffing structure. Recently we saw a large turnover of both full-time and part-time staff. After a time of transition, the park is now fully re-staffed and we hope  it will stay that way for a long while.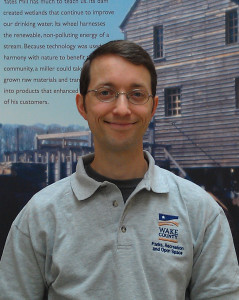 In September, we said goodbye to four colleagues who left for new job opportunities: Rosemary O'Day Lee, our full-time park technician for group programming; part-time visitor services staff Lynn Canada and Sean Croom; and part-time maintenance staffer Sandra Calhoun. Our summer parks and recreation intern Robert Monk also left at about the same time to head back to college. We certainly miss them at the park and appreciate all that they did for our county parks and the people who visit them. Here's hoping they visit our county parks often!
We filled Rosemary's position in October. A part-time park staffer, Marc Mahan, has taken on the challenge of group program coordination and assumed the full-time park technician position. Marc (pictured right) majored in Parks, Recreation and Tourism Management at N.C. State University with a concentration in natural resource management and environmental education. Marc first came to Historic Yates Mill County Park as a visitor and program participant, then as a volunteer, next as an intern and finally as part-time staff. We're glad to have him as part of our full-time team.
Three new part-time staff members have also been hired: Jameson Merrell, Amy Odom and Hannah Lee. Between them, they cover duties at the front desk of the park visitor center for most of each week and assist with many other operational and program-related responsibilities. Most likely they will be the first people to greet you when you head inside the visitor center, so be sure to say hello and welcome them on board.