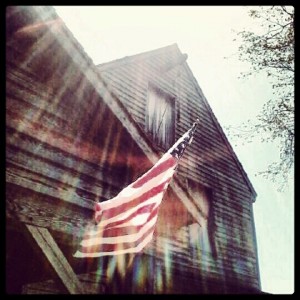 On July 13, Yates Mill Associates officers, members and friends joined family and friends of former YMA President John Vandenbergh to celebrate the naming of a classroom in John's honor at the A.E. Finley Center for Education and Research.
Speakers included Dr. Lee Drickhamer, a former post-doctoral student of John's at North Carolina State University. Lee helped launch the fund drive to pay for the naming of the classroom in honor of John, who is now an emeritus professor of zoology at NCSU. Other speakers were park manager Tim Lisk and program director Rebeccah Cope of Historic Yates Mill County Park; Dr. Harry Daniels, head of the Department of Biology at N.C. State; and current YMA President Margaret Lillard.
Margaret, who was elected in May to succeed John, praised John's leadership, hard work and passion for Yates Mill and our community in her speech …
Yates Mill Associates started small, but it has helped build one of Wake County's most popular parks. Thanks to the partnership of YMA, Wake County and N.C. State University, Yates Mill now probably gets more visitors than when it was an active business.
John Vandenbergh has been there from the start, as one of the founders of Yates Mill Associates, the first chairman of its board and, until recently, the group's president.
In a small group like Yates Mill Associates, a leader leads by example. Certainly, John helped with the big-picture items such as developing ideas and strategies, persuading Wake County to become a partner, and helping to raise funds to restore Yates Mill. But he did so much more – right down to tearing boards from old farm buildings to use in the mill's reconstruction.
There's one thing that makes you spend more than 20 years doing all that work, giving all that time and effort. It's not money and it's not glory – not even the glimmer of an idea that one day someone will put your name on a plaque.
It's love. Love of community, our shared history, our heritage.
The reward is the understanding that we are carrying a message from our past to our future.
That's important because, to know who we are, we have to know where we come from. Who we once were helps define who we are now and who we will be in the future.
A scientist like John knows that, just as DNA carries all the genetic keys to create our physical selves, our cultural DNA creates our shared sense of self. Like DNA segments, these moments, people and places in history are the elements that, together, build our identity as a community.
A teacher like John knows that each of us has a responsibility to add our link to that chain of cultural DNA. We are the link from our past to our future.
John has done two decades of work and he's still going. It's fitting that we pause to pay tribute to his leadership and friendship, because he has helped build a lasting tribute to countless friends and leaders who came before us. He truly understands the link that Yates Mill provides in our community's DNA.
So we thank John for his leadership. We thank him for his guidance. We thank him for being an inspiration. We thank him for his love.