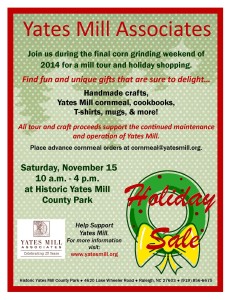 We've got a busy and fun fall in store for friends of Yates Mill and supporters of Yates Mill Associates. YMA's annual holiday sale has been moved up to November to help you get a jump on gift-giving and holiday baking. We've also made arrangements with a certain jolly old elf to visit the mill and pose for pictures with our young friends.
Nov. 15: Let Yates Mill help you with holiday baking and gifts!
It'll soon be time to load up on stone-ground cornmeal, cookbooks, crafts and souvenirs from historic Yates Mill. Our annual holiday sale will take place Saturday, Nov. 15 – which is also our last corn-grinding weekend of the 2014 season.
The sale has traditionally been in December but we've moved it up so you can use our delicious cornmeal in your Thanksgiving baking. We'll also have an array of Yates Mill cups, caps, T-shirts, ornaments and other souvenirs, plus crafts hand-made by YMA volunteers. Download a sale flyer here to pin on your refrigerator and share with friends.
Come down to the mill yard on Nov. 15 to take a tour and get a jump on your holiday shopping!
Dec. 13: Santa's making a stop this holiday season at Yates Mill – don't miss his visit!
In the historic spirit of Yates Mill, Santa will dress in his Victorian-era robes and be available all day Saturday, Dec. 13, to have pictures made with boys and girls (and willing parents) inside our festively decorated mill.
Your $15 ticket will purchase either a 5×7 or a 4×6 print, or four wallet-sized photos taken by the pros from Photo Miracles. You can pick your photos on-site and order additional prints if you like what you see.
Profits from the photos will be shared with Yates Mill Associates to help fund our ongoing work to keep Yates Mill's historic machinery running. We'll post more details on this event as it gets closer.