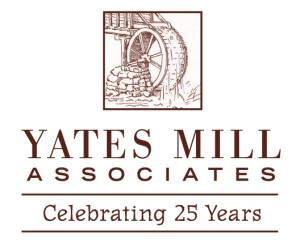 Our 25th anniversary year has been a remarkable one for Yates Mill Associates.
This year-long celebration has given us an opportunity to take stock of our accomplishments, to honor and revitalize old partnerships, to engage new supporters, to come up with new ideas to expand our work, and to rededicate ourselves to our mission.
We'd like to end the year by thanking you, the people and organizations who helped us bring historic Yates Mill back to life and, now, maintain it for new generations of visitors. Your gifts have financed essential work since Historic Yates Mill County Park opened in 2006, including several major projects:
Repair of parts of the Hurst frame that holds the main milling machinery,
Replacement of the roof, and
Removal and replacement of the forebay that carries water from Yates Mill Pond over the mill's waterwheel.
We know more significant repairs are on the horizon. We'll need to repair of a massive beam that supports the primary drive shaft soon. Before long, we must replace the waterwheel itself.
YMA's board and officers are preparing now for these and other jobs, plotting repair timelines to avoid disrupting public access to the mill, and expanding our base of support to make sure we have adequate funds.
But even as Yates Mill Associates welcomes new partners and supporters, we still depend on the long-term friends who have made our work possible in our first 25 years. Will you join us in rededicating yourselves to our mission to preserve Yates Mill by making a year-end gift to YMA? You can donate securely online right here on our website — even set up an automatic monthly gift that helps you budget a bigger donation. You can also mail a check to Yates Mill Associates, P.O. Box 10512, Raleigh, NC, 27605-0512.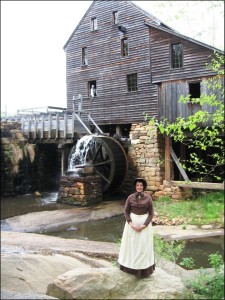 Your support has helped us make sure that every visit to Historic Yates Mill County Park is a memorable occasion of learning, discovery and just plain fun. Please join us in keeping this tradition alive for another 25 years … and for many generations to come.
Thank you, and happy holidays from Yates Mill Associates!
Margaret Lillard
President, Yates Mill Associates