Welcome to another year with YMA
Thanks to all you YMA members who voted in our annual election for members of the board. Sadly, we weren't able to hold our annual May membership meeting in person, but your YMA directors and officers are soldiering on to maintain our favorite historic site.
And please stay tuned for information about when we may be able to resume giving tours of historic Yates Mill. Meanwhile, Historic Yates Mill County Park is open – please stop by with your friends and family to enjoy this beautiful community gathering place.
---
Get your cornmeal now!!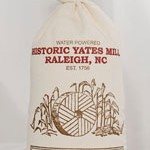 Do you miss Yates Mill's delicious, stone-ground cornmeal? Don't be sad – you can buy Yates Mill Cornmeal from our friends across the road at the Howling Cow Creamery!
The Creamery is located on the North Carolina State University Dairy Farm just across Lake Wheeler Road from Historic Yates Mill County Park. Our friends at the Creamery are selling both yellow and white cornmeal in our traditional cloth bag, containing 2 pounds of delicious Yates Mill Cornmeal for $5 each.
---
Can you help with Yates Mill's upkeep?
The suspension of tours and regular cornmeal sales has cost Yates Mill Associates its main income sources for more than a year – but we haven't abandoned maintenance and upkeep of the historic building.
Can you help? You can make a one-time gift online or by mail, or set up monthly payments through our website. Any gift will be most deeply appreciated!
---
Historic Yates Mill County Park is open year-round. Drop by during daylight hours to view the changing scenery and wildlife and to take a walk around Yates Mill Pond.
While you're here, please consider making a secure, online gift to Yates Mill Associates. Your support makes it possible for us to keep Yates Mill in operating condition for our neighbors and guests to visit and enjoy.
---

Going shopping? Will you get us a little something?
Did you know your purchases at Amazon can help support Yates Mill Associates? They can if you shop through AmazonSmile, the online store's charitable portal. Click the logo above to go directly to the Amazon logon that will connect you with our group. We hope you'll include us in your shopping list!
---
Yates Mill is a fully restored, circa-1756 gristmill in Wake County, North Carolina, and the centerpiece of Historic Yates Mill County Park. It is the only restored, operational automatic mill in North Carolina and one of just a few in the country.
Yates Mill Associates Inc. was formed in 1989 to restore, preserve and operate Yates Mill, and is solely responsible for funding its upkeep and repair. We partner with Wake County and North Carolina State University, which owns the mill, to maintain and operate the mill and park.
Yates Mill Associates
P.O. Box 10512
Raleigh NC 27605-0512