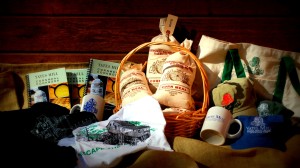 We're warming up for winter at Yates Mill with our annual holiday sale. Mark your calendar for Saturday, Dec. 7, and join us at the park!
The sale runs 10 a.m. to 4 p.m. at the A.E. Finley Center at Historic Yates Mill County Park. We'll have plenty of items for holiday giving including cookbooks, T-shirts, mugs and crafts hand-made by YMA volunteers. This year, we'll also have baked goods and hot drinks to enjoy.
And of course, we'll have delicious, stone-ground Yates Mill cornmeal — white or yellow, at $5 per two-pound bag. Order yours now by sending an email to cornmeal@yatesmill.org – let us know if you want white or yellow cornmeal, and how many bags you'd like to share with friends and family (or yourself!).
All our sale proceeds support Yates Mill Associates' work to maintain, repair and operate historic Yates Mill. We've got a big repair job coming up this winter – replacement of the forebay – and every penny will help cover the cost of this significant piece of work.
We'll write more soon to explain just what we'll be doing this winter to keep the old mill running. In the meantime, come see us Dec. 7 and get your holiday shopping started at Yates Mill!