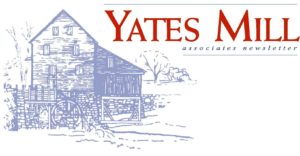 For many years, the main mission of Yates Mill Associates was to restore Yates Mill from a dilapidated building to a historically accurate working grist mill. Between 1993-2010,  YMA published and mailed a paper newsletter to supporters, detailing efforts by the YMA Board of Directors, Historic Yates Mill County Park staff, and volunteers to restore Yates Mill as accurately as possible. Thousands of hours went into fundraising, research, planning, and building so that Yates Mill could once again be a place for the community to gather and learn.
Many of the articles found in these newsletters give a fascinating glimpse into the life of mill owners, mill operators, and the advanced technology and community of bygone eras.
As records are digitized, newsletter articles on the history of Yates Mill and its restoration will be added.
Current index of articles:
Artifact Spotlight: Euclid Watch Fob by Allison Ribaudo
Extreme Makeover: Artifact Edition Yates Mill – Artifact Conservation Treatment by Allison Ribaudo

The Miller's Corner – Shed Repairs by William Robbins
History Revealed: Lea Family Lends Mill Artifacts to Park by Leslie Hawkins
The Miller's Corner – How Long Does a Millstone Last? by William Robbins
The Miller's Corner – Tools of the Trade: Jack Stick by William Robbins
Millponds and the Environment by John Vandenbergh
Grain Wagon Acquired and Moved to Park by Rebeccah Cope
Early Land Grant and Mill Research by Rebeccah Cope
The Miller's Corner – Hopper Boy by William Robbins
The Mill As Community Hub – by Leslie Hawkins
Forensic Photographer Is Helping to Document Mill Graffiti – By Sarah Rice
Tropical Storm Alberto – Mill Damage and Repairs – by Jeanne Robbins
"Jim Graham" Hopper-Boy Installation Completed by William Robbins
American-Flat Grinding System at Yates Mill
Research Continues On The Origins Of  The Millstones At Historic Yates Mill County Park by Mike Smith
Restoration of the Flour Milling Process Completed by William Robbins
Recent Historical Developments at Yates Mill by Sarah Rice and Rebeccah Cope
Hopper Boy Construction Begins by William Robbins
Old Yates Mill Painting in Need of Conservation
Drive Gears for Bolter and Grain Cleaner Installed by William Robbins
Barrel Packer/Flour Press Installed by William Robbins
The Finley Lodge by Dick Thompson and John Vandenbergh
Hand Quern Built and Donated for Use at Yates Mill
Bolter Restoration Nears Completion by William Robbins
Recollections of the Mill from 25 Years Ago by Donald Barnes
Grain Cleaner Restored
Researchers Visit Yates Mill
Mill Speak Round 2
Mill Speak Round 3
Vertical Shaft Installed
To see many of the items mentioned in these articles visit Yates Mill at Historic Yates Mill County Park.
To learn about ways to help Yates Mill Associates keep the wheel turning at Yates Mill, visit our Give page.