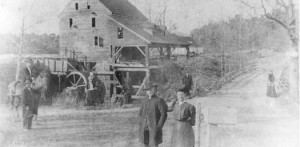 The history of Yates Mill began long ago. When the first mill was built on Steep Hill Creek, George II was king, and Benjamin Franklin was flying his kite in Pennsylvania. The land on which it stood was surveyed for Samuel Pearson in 1756 and granted to him by the Earl of Granville in 1761. This was ten years before Wake was established as a county, 15 years before the American Revolution, and 30 years before the General Assembly agreed to build the state capital on land purchased from Joel Lane.
In its 260+ years, Yates Mill has changed hands very few times. It has been owned by:
Samuel Pearson from 1756-1800 and his son Simon from 1800-1820
William Boylan from 1820-1854
James Penny from 1854-1869

Penny's partners were

Thomas Bridges from 1854-1864
John Primrose from 1854-1859
James Dodd from 1859-1864

The Yates Family from 1869-1948

Phares Yates was Penny's son-in-law and received title in 1869

E Finley from 1948-1963
In 1963, NCSU acquired the mill and the pond from Finley when it purchased 1000 acres of land on Lake Wheeler Road. NCSU still owns Yates Mill and the surrounding land to date. Fortunately, former NCSU Research Farm Manager, Henry Marshall, had made efforts over the years to preserve the building's roof, and his efforts saved the decaying mill from an early demise. This made him the first recipient of the annually presented YMA Volunteer of the Year Award named in his honor.
Yates Mill is the last remaining mill of approximately 70 mills that once operated in Wake County. The mill is powered by a 12-foot-tall overshot waterwheel supplied by a 24 acre millpond. Originally a grist mill for corn and wheat, it contains an early example of the third federal patent issued in the United States. This patent was issued in 1790, the year the US Patent Office opened, and was granted to inventor Oliver Evans for the "Automated Flour Milling Process." Yates Mill is one of the only original structures in the United States restored to working condition that contains the original components of this patented process.
Listed on the National Register of Historic Places in 1971 and designated as a Raleigh Historic Property, concern was expressed for over 25 years about the future of Yates Mill.  In 1988, at the urging of the Raleigh City Council, the Raleigh Historic Properties Commission sponsored a meeting for individuals and groups with an interest in the mill. From this initial meeting evolved the "Yates Mill Resources Group," a broad coalition of some 35 people with a variety of skills and interests: architects, engineers, historians, attorneys, an architectural conservator, historical society members, preservationists, city officials, NCSU administrators, state historic preservation office representatives, the Wake County Historical Society, and private citizens.
During a series of subsequent strategy meetings and visits to the mill, it became evident that previous preservation efforts had lacked a sponsoring organization that focused solely on the mill. Adoption of the mill by an existing organization was never achieved because the mill's restoration (a project requiring significant funding and a long-term commitment of energy) was not central to any group's mission. Thus, a decision was made to form a non-profit group chartered expressly for the purpose of preserving Yates Mill.
On July 11, 1989, Yates Mill Associates, Inc. (YMA) was incorporated as a 501c3 nonprofit organization. In less than three years, YMA developed into a 130+ member organization and eventually grew to over 450 members.
In 1990, a grant from the National Trust for Historic Preservation enabled YMA to hire local architectural firm Hagar, Smith, & Huffman to prepare a detailed Historic Structures Report. Internationally renowned millwrights Charles Howell and later Derek Ogden were hired to evaluate the mill building and its equipment and develop a plan for Yates Mill's restoration. As a result of these millwrights' research, the patented flour milling components of the mill were identified. Also vital to the restoration effort was the discovery of a detailed 13-page set of blueprints of Yates Mill drawn in 1958 by two students from the school of design at NC State College, as it was known at that time. These drawings were rescued from discarded debris cleaned out of a retired professor's office.
In 1991, the Department of Cultural Resources awarded YMA a matching grant to finance hydrology studies of the pond and dam and preliminary archaeological exploration.
In 1992, a second matching grant was awarded to fund the design and implementation of a plan to stabilize the mill and its foundation.
In 1993, the timber frame of the mill was repaired, and new siding installed.
In 1994, a new waterwheel was built and donated to YMA by retired local contractor Jefferson Sugg. That waterwheel is still in use today.
In 1996, Hurricane Fran's flooding breeched Yates Mill's 250-year-old dry stacked stone dam. As a result of stabilization work already completed by YMA, only minor damage to the mill itself occurred. However, the shed addition on the east side of the building collapsed, but fortunately it was already designated for demolition and replacement. NCSU (the landowner) applied to FEMA and was granted a portion of the funds needed to rebuild the dam and the damaged shed. YMA funded the remainder of these costs.
YMA's leadership developed a public/private partnership with NCSU (owner), Wake County Parks (managers) and YMA (funding for preservation, maintenance, and repair of the mill) to develop the land around the mill pond into a nature park. This partnership continues today, and the park is known as Historic Yates Mill County Park.
Over the next decade, donations and grants funded work on the mill, and YMA received several awards for its efforts. By 2001, the new waterwheel was lifted into place, the replacement of the hurst frame was completed, the flume was reconstructed, and corn was ground at Yates Mill for the first time in decades. Because of the rarity and historic significance of the patented flour milling components inside Yates Mill, YMA decided to fully restore this system. A book, "The Young Millwright and Millers Guide" written in 1795 by the inventor Oliver Evans served as a guide for local craftsman William Robbins and his colleague, Donnie Evans, who were chosen to complete the restoration. This project took five years (2001 – 2006) to complete using authentic and vintage materials and traditional tools and methods.
In 2002, a $250,000 endowment was created to ensure long-term funding for the mill's maintenance, repairs and operation. This endowment is in place today and helps fund YMA's work preserving and protecting Yates Mill.
After years of planning and hard work, corn is once again being ground at the mill. History tours and corn grinding tours are available by appointment. The cornmeal produced at the mill is inspected by the NCDA and is sold along with mill related merchandise to the public, as part of the fundraising efforts by YMA to finance projects that protect and preserve Yates Mill.
Whittaker Mill, Lassiter Mill, Edwards Mill, Harps Mill and Mitchell's Mill are now only memories and road names. But nearly three centuries after it was founded to provide the local community with a necessary service, Yates Mill is thriving due to the efforts of YMA and the people who worked together to fund its restoration and its continued preservation and operation.
Join us as we work to keep the wheel turning!