Come join our team of amazing volunteers!
Love what you see at Yates Mill? Would you like to learn mores about Yates Mill and the surrounding park? Would you like to ensure Yates Mill is open for tours in the future? Join us as we share with others about what makes Yates Mill so special! There are lots of ways you can volunteer at Yates Mill.
Tour Guides – We are looking for volunteers to lead weekend and/or weekday tours. Each tour is lead by a guide accompanied by a trained waterwheel operator and can last from 30 minutes to 1 hour, depending on the type of tour led. Some types of tours require volunteers to be available for 3 time slots per day. Groups may consist of school children, adults, or mixed age groups.
Corn Grinding Weekends – We need a minimum of 21 volunteers to hold a corn grinding weekend! The miller is onsite, grinding corn and explaining the process to visitors. Positions include ticket sellers, door attendants, mill attendants, corn shellers, and merchandise sellers.  Volunteers are encouraged to dress in 1860s era garb. (Costumes available from Historic Yates Mill County Park.) Volunteer slots are Saturday morning, Saturday afternoon, and Sunday afternoon on the third weekend of the month, March – November.
Arts and Cr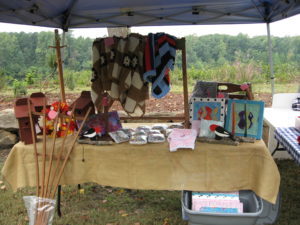 afts – Do you have a special talent? Are you willing to donate some of your creations? We are always looking for new arts, crafts, and homemade goods to be donated to our craft sales, which are held periodically throughout the year.
Board of Directors – YMA is looking for a few good people to serve on our Board of Directors. Qualifications include a love of history and Yates Mill, the desire to attend board meetings, and the willingness to use your talents in between meetings to help keep the wheel turning. Whether you are a number cruncher, an organizer, or a people person, YMA has a place for you. Visit our Board page to find out more.
---
Frequently Asked Questions
Do you offer training?
Yes!
What are the general expectations or attributes wanted in a volunteer?
Volunteers should enjoy working with and talking to people, including those from all walks of life and abilities. They should be able to speak clearly (and loudly – traffic gets loud down at our old mill!). They should have an appreciation for history, especially the history of Yates Mill and Wake County, and be willing to learn from/shadow experienced volunteers. We step everyone through both the historical and technical aspects of the mill, so those without backgrounds in those fields are welcome to join. 
Is there a minimum amount service expected from tour guides?
Trained guides are expected to lead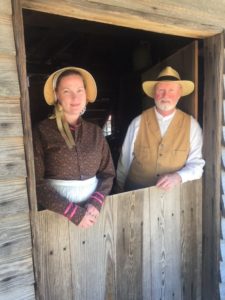 at least one tour a month March – November.
After a person is trained as a tour guide, can they lead any tour?
Because each tour has unique components, training is needed for each type of tour led. However, some parts of each tour are interchangeable, so once you learn one, it's easier to learn the others.
Do tour guides run the waterwheel?
Waterwheel operators are required to go through additional, advanced training.
Are there age minimums?
Interested volunteers under 18 are evaluated on a case-by-case basis.